At last weekend's NHL draft, the Predators unveiled a slightly different logo that features a gold stripe across the middle of the logo: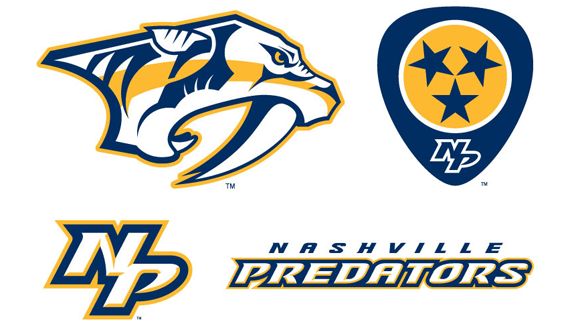 The New logo includes modified smaller versions of the previous logo, as well as an alternate guitar pick logo that contains three stars (from the Tennessee state flag) and acts as a nod to "music city," the place that our Predators call home. The new logo looks okay, but I'm not really sure that a change was absolutely needed. I really like the guitar pick though, so there's that.
In other draft-related news, the Predators picked up several new prospects (as a reminder, the Predators traded away their first round pick for Mike Fisher back in February):
| | | | |
| --- | --- | --- | --- |
| Round | (overall pick number) | Player Name (Position) | Former Team |
| 2 | (38) | Magnus Hellberg (G) | Almtuna |
| 2 | (52) | Miikka Salomaki (RW) | Karpat |
| 4 | (94) | Josh Shalla (LW) | Saginaw |
| 4 | (112) | Garrett Noonan (D) | Boston University |
| 5 | (142) | Simon Karlsson (D) | Malmo Jr. |
| 6 | (170) | Chasen Balisy (C) | Western Michigan |
| 7 | (202) | Brent Andrews (LW) | Halifax |
Honestly, I do not know very much about these prospects, but we will post more information and details on all of these prospects as soon as we can!
Other good news that came out of last weekend involves the Predators potentially leaving the Western Conference starting in the 2012-2013 season; according to ESPN.com, now that the Winnipeg is once again home to an NHL team, rather than simply placing the team in an existing division, the entire league will be realligned. This means that teams closer to the east coast (like Nashville) could potentially be a part of the Eastern Conference (as they probably should anyway, but hey, Bettman never claimed to be a geography expert). The new alignment will consist of four divisions, two with eight teams and two with seven teams.