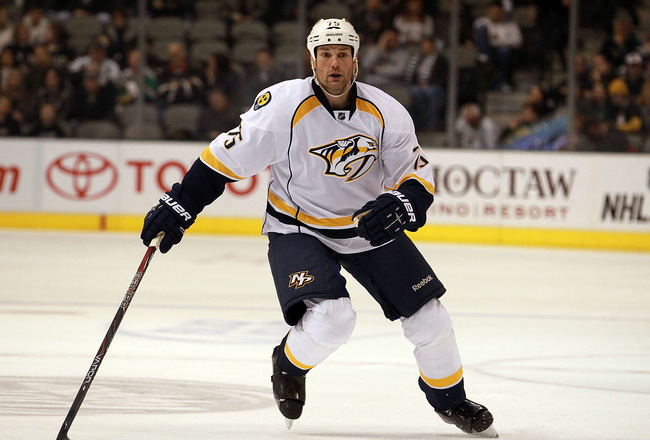 The Predators organization and Hal Gill have agreed to a new contract for two years at $4 million.
Gill is a 37 year old 6'7 defensemen who joined the Preds through a trade near the 2012 deadline. Gill played 23 regular season games for Nashville and averaged 18 minutes of ice time, usually on the second line. He contributed 5 assists. Gill was sidelined for the first round playoff series vs the Wings with an injure but did come back to play all the games vs Phoenix.
When healthy, Gill can use his size and defensive talent to contribute to the Predators back line. However at 37 staying healthy becomes a bit difficult. Critics will also call Gill's speed into question.
He will also be a great asset to developing Nashville's young defensive group. His experience will be perfect in the dressing room in the regular season and definitely if the Predators find themselves in the playoffs again.
Expect Gill to remain in the second defensive pairing when he plays. His defensive partner is difficult to determine at the time considering the free agent uncertainty that is lingering.
Here is the official tweet from TSN reporter Ryan Rishaug:
Hall Gill 2 years 4 million with Preds. Done deal.#tsn

— Ryan Rishaug (@TSNRyanRishaug) June 28, 2012