The Nashville Predators have re-signed Colin Wilson to a three-year, $6 million contract. The way the contract is set-up, in this upcoming season, Wilson will be payed $1.5 million, $2 million in the 2013-14 season and $2.5 million in the 2014-15 season.
Read the Press Release sent out by the Nashville Predators and my opinion after the jump…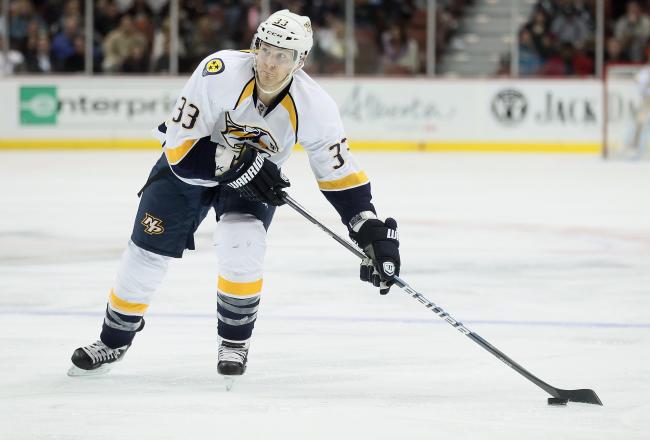 Nashville, Tenn. (July 24, 2012) – Nashville Predators President of Hockey Operations/General Manager David Poile announced today that the club has signed forward Colin Wilson to a three-year, $6 million contract. The Greenwich, Conn., native will make $1.5 million in 2012-13, $2 million in 2013-14 and $2.5 million in 2014-15.

Wilson, 22 (10/20/89), set career highs in assists (20) and points (35) while scoring 16 goals in 2011-12. The 6-1, 212-pounder also tied for second on the Predators in game-winning goals (5), and fourth on the club in power-play goals (5) this past season. In 185 career NHL contests since the start of the 2009-10 season, Wilson has 84 points (39g-45a).
Nashville's first choice, seventh overall (first round), in the 2008 Entry Draft spent two seasons at Boston University prior to joining the Predators (2007-09), helping the Terriers win the 2009 NCAA National Championship and being named USA Hockey College Player of the Year in the process. Wilson was Team USA's Most Outstanding Player at the 2009 World Junior Championships and was the only current college player to represent the Red, White and Blue at the 2009 World Championships.
At the age of 22, Colin Wilson hasn't played to his full potential, which is being a Top 6 scoring forward. Last season, according to a few people in the Nashville media, Wilson has been in Barry Trotz's dog house. It could be due to complaining of lack of ice time, who knows?
Wilson played 65 games last season and 4 in the playoffs. In those 69 games, Wilson scored 16 goals and 20 assists.
This is a great re-signing made by David Poile as it allows Colin Wilson another chance to play up to his potential. He has explosive speed that I would like to see more often. The Nashville Predators will have to rely on him a bit more this season as he is going to have to be a Top 6 forward on the team.
In these next three years, it should be quite interesting to see how Wilson develops. Either he will be a bottom 6 player who will play gritty, or will be a top 6 where he can become a scorer.