Craig Smith is the next Predator to sign overseas in an effort to play some hockey during the prolonged lockout. As talks today seemed to suggest further delay in play and with regular season games soon to be cancelled, Craig Smith will head over the Atlantic to play with KalPa in Finland's SM-liiga – According to this tweet from TheFourthPeriod.com. According to their wikipedia page, the league is owned by past Predators Kimmo Timonen and Scott Hartnell, which probably didn't influence his decision. If anything it brings into question why haven't they joined the team? Best quote from the article "Philadelphia Flyers forward Scott Hartnell purchased a minority share of the team after getting financial advice from Kimmo Timonen during a road trip to Boston"… Anyway… click read more for additional details.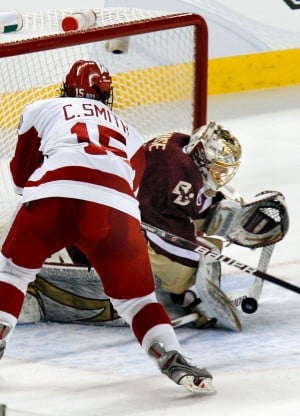 Smith got off to a great start with the Preds in his rookie season last year but slowed down as the it went on. It was evident that he was not used to the workload of a full NHL season, which is why it is nice to see him joining a league to get some additional games in as opposed to sitting around waiting for hockey to start. He finished the season with 14 goals and 22 assists and dressed for only two playoffs games.
Jouni Rinne, who is not related to Pekka, also plays for the KalPa… Sorry, I am having a very difficult time finding a connection between Smith and the KalPa. Smith will be the only North American on the roster (for now?). If you can think of something I am missing, please hit me up.
The team plays out of Kuopio Finland which has a population of just under 100,000. They have only won two "medals" in the SM-Liiga, a Silver in 91 and a Bronze in 09