During the winter time, the hockey world holds two major tournaments. One is for the young hockey players, the World Juniors Championship, and the other is for the professionals, the Spengler Cup. Both tournaments start at the same time, but the Spengler Cup ends on New Year's Eve while the World Juniors ends January 5.
It is without a doubt the WJC is the bigger tournament that receives more coverage.
Patric Hornqvist will perform in the Spengler Cup with Fribourg Gotteron, while Jimmy Vesey will play for Team USA and Miikka Salomaki will play for Team Finland in the World Juniors.
The Spengler Cup is a six day event with six teams from across the world. Host of the tournament is HC Davos in Switzerland. Team Canada is the favorite to win because of their solid roster from front to back due to the lockout in the NHL. Alder Mannheim in Germany rounds out the division with Canada and Davos.
In the other division, Salavat Yulaev Ufa out of the KHL, HC Vitkovice Steel in the Czech Republic and Hornqvist's team from Switzerland HC Fribourg Gotteron.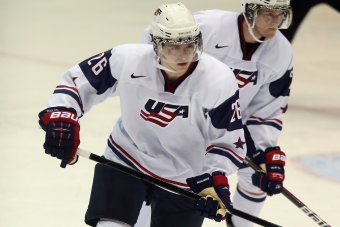 Of course, there is the World Juniors Championship which gets the most attention because the future of the hockey world is playing on that ice. The Boston, Massachuesetts native Jimmy Vesey will be representing his country wearing the number 26. Vesey was drafted in the 2012 NHL Entry Draft 66th overall.
Miikka Salomaki is expected to do big things for Team Finland in the WJC. He is projected to be paired with Joel Armia and Markus Granlund, brother of the Minnesota Wild's forward Mikhail. Salonaki was drafted in 2011, 52nd overall.
Finland is in a favorable division with Sweden, Czech Republic, Latvia and Switzerland. For USA, the story is much different. In their division they have Canada, Russia (both likely candidates to win the tournament), Germany and Slovakia.
Both Salomaki and Vesey will be able to represent their countries again in the World Juniors Championship, prior to the Olympics.
Here is the schedule to watch your Predators players (Highlighted in Bold).
Wednesday, December 26
Finland vs Latvia at 1:30 AM CT
Fribourg Gotteron vs Salavat Yulaev UFA at 8 AM CT
Thursday, December 27
Germany vs USA at 8 AM CT
Friday, December 28
Czech Republic vs Finland at 1:30 AM CT
USA vs Russia at 8 AM CT
Fribourg Gotteron vs HC Vitkovice Steel at 8 AM CT
Saturday, December 29
Quarterfinal 1: Fribourg Gotteron vs Adler Mannheim p at 8 AM CT
Sunday, December 30
Switerland vs Finland at 1:30 AM CT
USA vs Canada at 3:30 AM CT
Semifinal 1: Team Canada vs Fribourg Gotteron at 8 AM CT
Monday, December 31
USA vs Slovakia at 4 AM CT
Finland vs Sweden at 6 AM CT
Wednesday, January 2
Playoffs: USA vs Czech Republic at 3 AM CT
Relegation: Finland vs Germany at 5 AM CT
Thursday, January 3
Semifinals: USA vs Canada at 3 AM CT
Friday, January 4
Relegation: Slovakia vs Finland at 5 AM CT