Ah… July 1. It is Christmas Day in the NHL. It is the beginning of a long month filled with signings. July 1st is a lot of things really but to describe it in one word, one would couldn't describe "Free Agent Frenzy" in one adjective. There is too many emotions that run through you just waiting for your team to make that next exciting move.
WARNING: July 1st may cause anxiety, anger, happiness, sadness, depression, heart-break, hope and disappointment.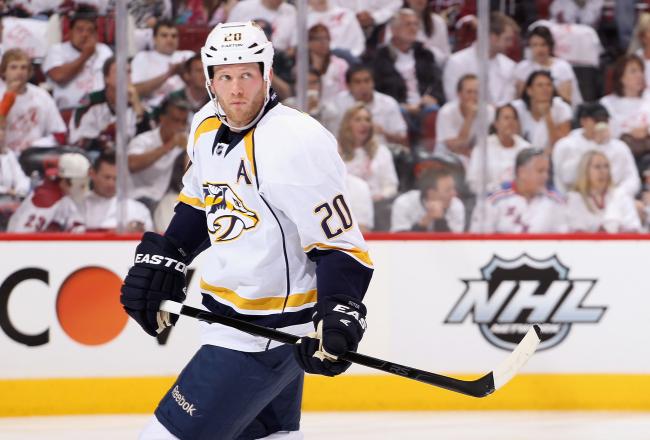 With July 1 being Sunday, the Predators have been ready for free agency period for a month and a half now. In that short time, David Poile has re-signed many prospects, but only two rostered players. Those players are Hal Gill, signed Thursday, and Paul Gaustad, signed Saturday.
The Predators enter free agency period with $32 million of cap space. Unfortunately, with all that room to spend money, the Predators only have fifteen players on their roster. The rest are restricted free agents or unrestricted free agents.
Nashville's UFAs are Ryan Suter, Francis Bouillon, Sebastien Caron, Andrei Kostitsyn, Jordin Tootoo and Brian McGrattan. According to a few reports Francis Bouillon, Sebastien Caron, Andrei Kostitsyn and Jordin Tootoo will not return next year with the Predators. Ryan Suter is the main target, while it is questionable what Poile does with Brian McGrattan. If they aren't re-signed by 11 AM CT Sunday, July 1, they will all become anyone's game to sign.
In the RFA class, we have Shea Weber, Jack Hillen, Jonathan Blum, Teemu Laakso, Jeremy Smith, Atte Engren, Ryan Thang, Zack Stortini, Alexander Radulov, Colin Wilson, Sergei Kostitsyn and Jack Maclellan.
On Monday, June 25, David Poile sent out qualifying offers to everyone of those RFAs except Jack Hillen and Zack Stortini. They will both be UFAs July 1 and will not be a Nashville Predator next season.
The qualifying offers were sent to keep the right of the players and not allow them to go to the free agency market. This way, Poile can trade their rights away. It is a smart move to extend an offer to Alexander Radulov, just so Poile can use him as trade bait to any team who would possibly want him. That goes for the rest of the players who received qualifying offers.
Ryan Suter will be testing the free agent market it appears. It is not out of the question that Ryan Suter returns to Nashville to start a family and play hockey here for the rest of his career. That is the case for Suter to stay in Nashville and, for a matter of fact, for any team!
It seems like the teams Suter are interested in, although we don't know for certain, are only in the Western Conference. So, by process of elimination and through speculation, we limit it down to the Nashville Predators, Detroit Red Wings and Minnesota Wild. All three of these teams need defense help and are willing to pay the big bucks. However, I don't think Detroit is even in the mix of Suter's options. It comes down to Nashville, where he was drafted and started his career, or Minnesota, where he lived and grew up.
I couldn't tell you where Suter is going, mainly because of all the mixed reports. Testing free agency seems like a slap in the face to Poile. If he isn't interested in continuing his career in Nashville, then tell him instead of having us on our toes.
It will be quite interesting how the first four days of free agency goes. The dominoes will start falling on where certain people will land up and where free agents would like to go.
Since the Predators will have to sign a few free agents from other teams, you would think Poile would want high quality free agents to lure Suter in. There is a huge possibility that Poile pulls the trigger on signing a free agent on July 1 for the first time ever. Here are some prospects that are realistic for the Preds to sign.
P.A. Parenteau of the New York Islanders: With the prime of his career coming up next season, Parenteau is a candidate to be on the Predators. He is a first or second line option that could replace Andrei Kostitsyn. He plays solid ice time nightly and can put points up. Parentau scored 18 goals and 49 assists in 80 games.
Jiri Hudler of the Detroit Red Wings: With the prime of his career coming up as well, being around star talent like Pavel Datsyuk, Henrik Zetterberg and Nicklas Lidstrom has really developed his talent. Hudler is a second line option and put up 25 goals last season. Yes Detroit, we can covet your players too.
Matt Carle of the Philadelphia Flyers: Carle could replace a Ryan Suter, short-term while Roman Josi develops. He could add solid depth to the defense and can play first line duty if necessary. Also, Carle is a big PK guy.
Dominic Moore of the San Jose Sharks: This guy flies under a lot of peoples radar. I wanted Moore when he was available from Tampa Bay. Now, he is available again. Moore could fit into Barry Trotz's system as a type of Joel Ward, but with more skill. Dominic Moore isn't too expensive of a player either and would play a third line role.
Chris Mason of the Winnipeg Jets: Let's face it, the Predators don't have a set number two goalie for this season. No one is qualified right now in the system to back up Rinne. Mason would be a great fit back in Nashville, where he played at the beginning of his NHL career. Mason doesn't expect to be a starting goalie and will be a solid back-up for this upcoming season while Magnus Hellberg develops. Trotz likes him and Mason still owns a home in Nashville. It only makes sense to bring him back for low money.
If David Poile is able to get two of the five, I would be one happy guy. All five of these players aren't a stretch to get either and will not cost over four million per year. The highest paid guy your looking at would be Matt Carle, in which he would ask for around the four million mark.
Watch for the Predators to be one of the teams that make a huge splash this off-season. It will be exciting on how everything pans out. Keep reading Fang Faction as our staff and myself will keep you up-to-date with the latest news coming out of Smashville.