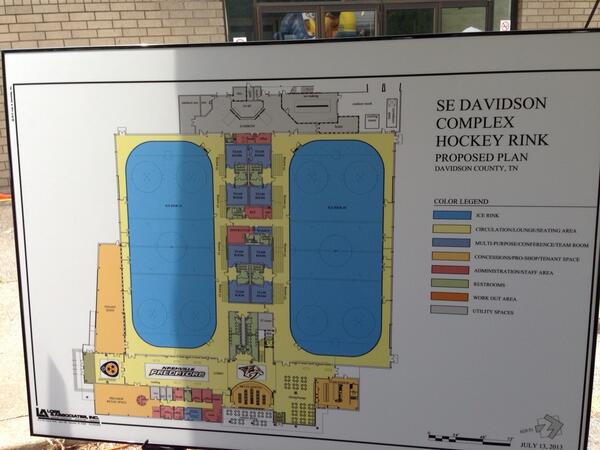 Photo by @NC5_MWashington
Monday, the Nashville Predators held a Summer Festival at Global Mall at the Crossings, formerly known as Hickory Hollow Mall, where fans were invited to enjoy inflatable games, street hockey, special prizes, photo opportunities with a Zamboni, music, face painters and appearances by the Predators Dancers and Gnash, the team mascot.
During the festival, a surprise announcement was made by the city of Nashville and the Nashville Predators that where they were have their festival was going to be the location of Middle Tennessee's third ice hockey rink. The new facility will have two ice sheets and is schedule to be done in August of 2014.
Surprisingly, the city and organization elected to build an ice rink in Antioch, rather than Murfreesboro or Hendersonville, where it is needed most.
The newest addition in the Nashville hockey communitity is planned to be located at the north entrance of Global Mall at the Crossings, where JC Penney's and Steve and Berry's outerwear used to be located, which will be renovated. It will take away parking spaces, but that shouldn't be a major issue. It isn't like the mall is packed anyway.
Said Predators CEO Jeff Cogen: "More rinks also equal more opportunities for people of all levels and ages to get involved in the game of hockey, growing the Nashville Predators fan base and creating new ambassadors to the sport."
The $14 million hockey center will faciliate the Predators for practices as well, but Centennial Sportsplex will remain their home. Global Mall at the Crossings is just a short twenty minutes down I-24 from Bridgestone Arena in downtown Nashville.
Once 86,000 sqare foot facility opens up, it is likely going to be home of youth hockey leagues whether it is house, travel or high school.
Hickory Hollow Mall was once on the list of America's Ten Most Endangered Malls. After the mall completely shut down and all the commerical shopping chains fled, a local community college, Nashville State, moved in. Soon after, major stores like Best Buy and Target were fleeing the town of Antioch as well.
Luckily, a new company bought the mall and changed the name from Hickory Hollow to Global Mall at the Crossings. The new mall reopened May 18 and signed a lease with over sixty stores to move back in.
With the addition of an ice rink in Antioch, it will also drive business back and generate money for those currently there, especially restaurants and hotels.
Said Metro Parks Director Tommy Lynch: "We're looking forward to the impact our new regional center at the Global Mall will have on this community."
"Families will find it convenient for the ice rink, community center, park and library to be in one location," said Mayor Karl Dean. "This new public facility will benefit nearby neighborhoods and the surrounding retail and commercial area by attracting more people to the vicinity and creating a more stable business environment."
One issue the city could face however is traffic situation. During rush hour, I-24 and Bell Road, alongside the future rink, is bumper to bumper at times. But that wasn't addressed.