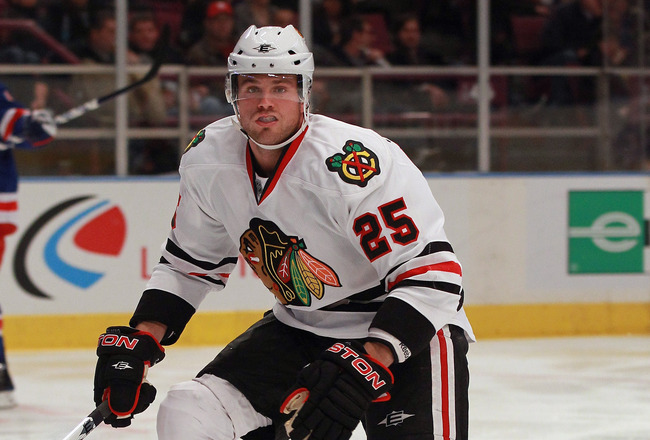 On most nights in a Chicago Blackhawks' uniform, Viktor Stalberg would have been seen playing on the third or fourth line, totaling around fourteen minutes per night under head coach Joel Quenneville. That was to no fault of his own because of the extreme depth the Blackhawks possessed. Stalberg was on a team filled with superstars at the forward position like Marian Hossa, Patrick Kane, Patrick Sharp and Jonathan Toews.
"I don't think I was really given the opportunity [in Chicago]," Stalberg said. "Certainly, you can't be mad at that either because, just look at that lineup. That's just the way it is."
The main driving force for Stalberg signing a four-year deal worth $12 million with the Nashville Predators Friday was because he would be provided with that opportunity to become a top six forward to fulfill his potential. During the 2011-12 season, the Stockholm, Sweden native scored 22 goals in 79 games — as a bottom six player. Last season if there were 82 games played, he would have been on track for sixteen.
Signing the 27-year old was exactly what the doctor — David Poile — ordered, a large winger who can play a physical game with the capabilities of being the team's leading scorer.
Said Poile: "He's got size, speed and we believe he has unrealized offensive potential."
The way Stalberg plays will thrive under Trotz's forechecking system. As a hard worker, he isn't afraid to deliver hits and dig down low in the corners for loose pucks. The dump n' chase style is going to be well-suited for his type of play.
Stalberg said, "I think the way [the Predators] play — they play an up-tempo game. It makes it hard for you to break out of your zone. [My speed] is something I will be looking to use here."
After winning a Stanley Cup less than a month ago with Chicago, the newly acquired Red Wings forward Daniel Alfredsson told Stalberg to enjoy the moment. But that isn't stopping him from wanting to win another Cup, but in the Music City.
A winning attitude is needed in the locker room after a devastating season in 2012-13. He can bring in the winning culture that thrives in the Blackhawks' organization and transfer it to his new teammates and onto the ice.
"[In Chicago], we were expected to win every game and that was I'm going to try and bring to Nashville. Being around and seeing what the Cup does to people is exciting and hopefully I get the chance to experience that in Nashville."
(Photo by: Bruce Bennett/Getty Images)