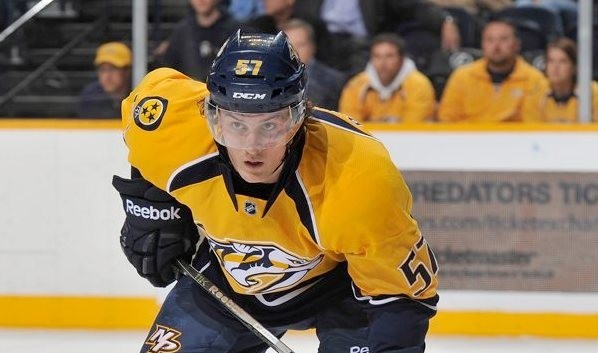 Photo by John Russell/Getty Images
When the Nashville Predators drafted forward Gabriel Bourque in the 5th round of the 2009 NHL Entry Draft, they knew they were getting a player fit to play the "Predator Way". It's clear that Barry Trotz loves him. Here's how I think he's faired in Predator gold.
Bourque played his first NHL game just three months after his 21st birthday. He had already earned praise from his Milwaukee Admirals head coach Lane Lambert for his play in the 2010-2011 season as a 19 year old. It might've helped that Lambert went on to replace Brent Peterson as one of the big club's assistant coaches. Nevertheless, Bourque put up 18 goals and 18 assists for 36 points in 2010-11. Bourque also set a World Junior Championship Tournament record by putting up 7 points including 3 goals for Team Canada in a 16-0 victory over Latvia.
Not only did Bourque crack the lineup in December of 2011, he stayed there for the rest of the season. Even as the Predators brought on rentals like Alexander Radulov, Andrei Kostitsyn and Paul Gaustad for that season's playoff run, Bourque still held an everyday lineup spot, forcing players like Jordin Tootoo, Brandon Yip and Brian McGrattan out of the lineup.
Then came the 2012 playoffs when Bourque potted home 3 goals and 2 assists for 5 points in 10 games. His fearless play on both ends of the ice showed that he was here to stay.
In the lockout-shortened 2012-2013 season, Bourque led the team in goals with 11 up until his injury that sidelined him for the season and helped send the Preds toward the greens instead of playoffs.
While a bit limited in terms of offensive upside, Bourque can play extremely well on both sides of the ice. He forechecks very well and does so with plenty of speed. He backchecks very well also and plays a role sometimes on the penalty kill. Trotz has subsequently rewarded Bourque with plenty of ice time, a product of great play. Bourque epitomizes what it means to play the "Predator Way", a term that the Preds front office has been known to use a lot. Trotz is not afraid to use Bourque against top lines of other teams and so his plus-minus ratings may be a bit skewed. They are hoping that he can develop the offensive side of his game to become similar to an Alex Burrows or Jere Lehtinen-type player.
For Bourque's defensive play, I'll give him 4 stars and for his offensive play, 3 stars. He's put up respectable numbers given the number of games he's been in and the limited offensive situations he's utlized for.