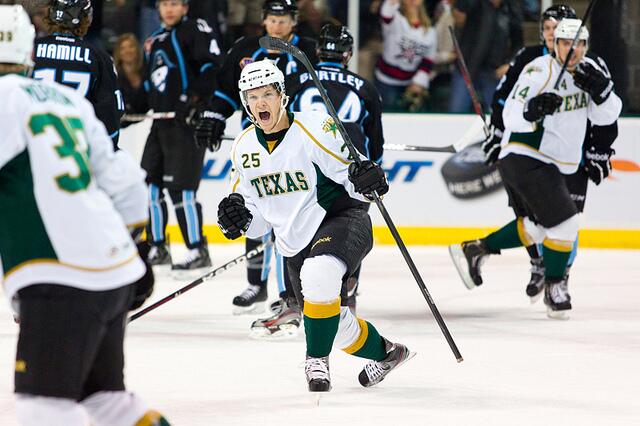 (Photo by: Josh Rasmussen)
The Milwaukee Admirals see their season end Friday night as they fell to the Texas Stars 2-1, eliminating them from the 2013 Calder Cup Playoffs in four games—3-1. Milwaukee threw everything including the kitchen sink at Texas in order to force the game into overtime, but Cristopher Nilstorp was able to stop 17 of 18 shots in the third.
"The guys gave it everything they had," said Milwaukee assistant coach Stan Drulia. "I really thought we were going to pull it off. We had a nice surge in the third period. Nilstorp was huge."
Matt Fraser struck the board first 10:16 in as he capitalized on a loose puck in front of the net. Fraser's shot somehow went through two Admirals defenders' sticks and past Magnus Hellberg.
Alex Chiasson scored the game winning goal off a tip from Kevin Connauton's blast from the point. In two games with the Stars this series, Chiasson has scored a goal in each game.
The lone Admirals' goal came from Kevin Henderson, who played in his second game this series. Taylor Beck's shot left a rebound off the leg of Nilstorp to Henderson, who shot the puck in. Henderson's goal snapped Nilstorp's shutout streak ended at 128:39.
There is certainly a bitter taste in the mouth of those in the Admirals' dressing room as they worked hard in the final twenty minutes, but were unable score the game tying goal. Now, their season is over and some of them are looking forward to a shot to be in the NHL this summer.
Goals and Assists
1-0 TEX: Matt Fraser – Sceviour and Sonne at 10:16 in the 1st
2-0 TEX: Alex Chiasson – Connauton and Hedden at 1:29 in the 2nd
2-1 TEX: Kevin Henderson – Beck and Bartley at 1:40 in the 3rd
My Three Stars of the Game
1. Cristopher Nilstorp: 34 Saves on 35 Shots
2. Alex Chiasson: GWG
3. Magnus Hellberg: 24 Saves on 26 Shots