Welcome Detroit Red Wings and Nashville Predators fans to the signature story on Fang Faction, 'How to Beat the Goalie.' This is edition thirteen since this has started. It has been a good while since this story has been made to "scout" the other team, but that is stopping tonight.
The Nashville Predators take on a injured, Detroit Red Wings team, Friday night. The goalies for the game is Ty Conklin and Jordan Pearce. You might be asking yourself, "Where is Jimmy Howard and Joey MacDonald?" Well, read more after the jump to find out.
Edition 13: Detroit Red Wings Goalies, Ty Conklin and Jordan Pearce
UPDATED: Jimmy Howard says he is healthy and ready for action Friday night. Not 100 % though. Babcock to decide after Morning Skate.
Ty Conklin is the projected starting goalies, as of now, on Fang Faction. Jordan Pearce should be getting another night off, as he has never played in a game for the Detroit Red Wings, ever. To answer the question before the jump, here is what happened to Howard and MacDonald.
Jimmy Howard has been injured since March 4 with a strained groin. It has been speculated that Howard will be returning Friday night, but I highly doubt that, as going into Wednesday night's game against the Columbus Blue Jackets, he was doubtful.
Joey MacDonald started in the last game against the Nashville Predators, March 10. Since then, MacDonald was injured March 17 with a back injury and is listed day-to-day. I don't think he will be in the line-up Friday night, either. Although, I believe that MacDonald has better chance of being in the line-up against Nashville than Jimmy Howard.

Ty Conklin is the Fang Faction projected starting goalie for the Detroit Red Wings, as of now. Conklin enters this game off a 4-2 loss against the Columbus Blue Jackets. He has started the last four games due to the MacDonald injury, and his record is 2-1-1.
Ty Conklin has been through a crazy year this season. Conklin was sent down to the AHL affiliate, Grand Rapids Griffins. Then, as Joey MacDonald was injured, he was sent back up to Detroit in an emergency re-call. From going from Grand Rapids to now, Detroit Red Wings as a starting goalie. What a crazy year for Conklin.
Here is how the Nashville Predators will score on him Friday night. There isn't too much video on Conklin, this season.

Blocker Side: Watch for Nashville to shoot blocker side Friday night, as that is a weak area for him.
Shoot Often: All things aside, forget where the Predators should shoot, they should just shoot. Conklin can not handle a lot of shots. Nashville needs to shoot often, just about anywhere.
Ty Conklin's 2011-2012 season stats:
| | | | | | | |
| --- | --- | --- | --- | --- | --- | --- |
| Name | W | L | OT | SO | SV % | GAA |
| Ty Conklin | 5 | 6 | 1 | 1 | .884 | 3.28 |
Ty Conklin's career stats vs Predators:
| | | | | | | |
| --- | --- | --- | --- | --- | --- | --- |
| Name | W | L | OT/T | SO | SV % | GAA |
| Ty Conklin | 4 | 3 | 2 | 0 | .883 | 2.92 |
——————————————————————-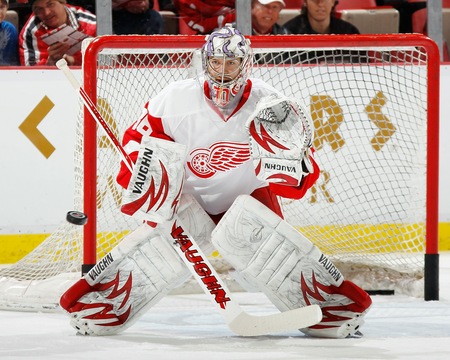 Jordan Pearce is also another one of those interesting stories this season for the Detroit Red Wings. Pearce is an emergency back-up to Ty Conklin. Pearce was called up from Grand Rapids to replace Joey MacDonald, when he was injured. Jordan Pearce is a Notre Dame Fighting Irish graduate.
There is literraly no video on Jordan Pearce, that I have access to. So unfortunately, I can't tell you how the Nashville Predators will try to beat him.
There is also no stats on him in the NHL, but here is his stats with the Grand Rapids Griffins in the AHL.
| | | | | | | |
| --- | --- | --- | --- | --- | --- | --- |
| Name | W | L | OT | SO | SV % | GAA |
| Jordan Pearce | 3 | 7 | 1 | 1 | .874 | 3.53 |