Today's edition of 'How To Beat The Goalie' will be featuring the goalies of the Los Angeles Kings. Starting goalie, Jonathan Quick, is supposed to sit tonight and back up goalie, Jonathan Bernier, is expected to get the start tonight. Both goalies will be looked at with in-depth stats and video.
Edition 3: Los Angeles Kings goalies, Jonathan Quick and Jonathan Bernier
The projected starting goalie is Jonathan Bernier. Jonathan Quick got the start Saturday against the Chicago Blackhawks, where he earned a shutout. Tonight is Bernier's night and he needs to play well. He is expected to get the start because of his significantly better play vs Nashville than Quick.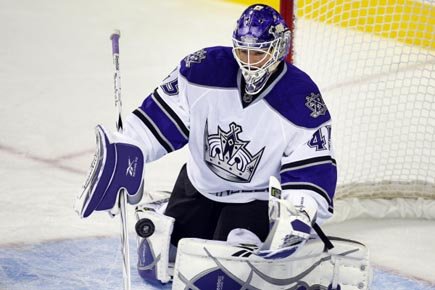 Let's start with the projected starting goalie, Jonathan Bernier. Bernier's last time he has played was February 22 against the Colorado Avalanche, where he was in relief of Jonathan Quick. Bernier hasn't actually started a game since February 4 against the Carolina Hurricanes, where he earned the loss.
Trade talks have been swamping him and the Los Angeles Kings. Looks like it won't be happening since he is very likely to start. Remember, it is always good to have a good back up goalie in the play-offs.
5'11" Jonathan Bernier, has a lot of potential as a starting goalie in the next couple of years. Bernier, 23, can't be rushed in this process. The organization has to be patient before making him a starting goalie, otherwise, he will burn out. Here is how the Nashville Predators will beat him tonight…
His left side: The Predators can score on his left side. Bernier isn't good on the left side because he doesn't have great angles

Shoot high: For Bernier being 5'11" the Predators need to try to shoot high and blocker side.

Rebounds: Bernier gives juicy rebounds
Here is Jonathan Bernier's career stats:
| | | | | | | |
| --- | --- | --- | --- | --- | --- | --- |
| Name | W | L | OT | SO | SV % | GAA |
| Jonathan Bernier | 18 | 16 | 4 | 4 | .909 | 2.55 |
Here is Jonathan Bernier's career stats vs Nashville:
| | | | | | | |
| --- | --- | --- | --- | --- | --- | --- |
| Name | W | L | OT | SO | SV % | GAA |
| Jonathan Bernier | 5 | 1 | 0 | 1 | .933 | 2.00 |
———-

6'1" goalie, Jonathan Quick should get the rest tonight. He recorded a shutout Saturday night against the Blackhawks. Quick is having an outstanding season so far, but unfortunately his team hasn't been playing well. I wouldn't count him out of the Vezina running. If he was to start (or play) tonight, here is how the Predators will beat him. Since he isn't starting, I am not going to break him down too much.
Shoot at bad angles: Quick doesn't align himself right along the posts. Shoot at bad angles, and there will be a hole along the post.

Make him move: Quick has a tendency to commit to the first move a player makes. Make him bite, and you will most likely score.
Here is Jonathan Quick's career stats:
| | | | | | | |
| --- | --- | --- | --- | --- | --- | --- |
| Name | W | L | OT | SO | SV % | GAA |
| Jonathan Quick | 121 | 83 | 23 | 21 | .916 | 2.32 |
Here is Jonathan Quick's career stats vs Nashville:
| | | | | | | |
| --- | --- | --- | --- | --- | --- | --- |
| Name | W | L | OT | SO | SV % | GAA |
| Jonathan Quick | 0 | 3 | 1 | 0 | .887 | 3.24 |