Welcome to the newest edition of 'How to Beat the Goalie'. Today's edition will feature the upcoming opponents to the Nashville Predators, which is the Phoenix Coyotes. This will be the first time that I will be covering the Coyotes' goalies. The Phoenix Coyotes' goalies are Mike Smith and Jason LaBarbera. Both goalies will be analyzed with in-depth stats and video. Enjoy!
Edition 6: Phoenix Coyotes' goalies, Mike Smith and Jason LaBarbera
The projected starting goalie for Monday's game is Mike Smith. He is the starting goalie for the Coyotes and had a spectacular game Saturday night. In three meetings between Nashville and Phoenix, Mike Smith has yet to have started a game against Nashville. That should change Monday night. Jason LaBarbera could get the start and continue his streak, but I highly doubt it as the 'Yotes are in need of wins during the playoff race.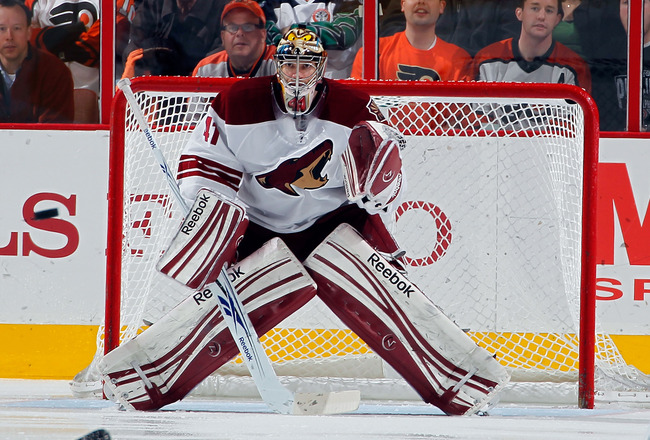 Let's start with the projected starting goalie, 6'4" Mike Smith, who is in the picture above getting prepared for a shot. Smith has been having a good year compared to his last in Tampa with the Lightning. All he needed was a chance and, I feel he has capitalized. Last season with the Lightning, he played in only 22 games for the season, while this year with the Coyotes, he has already played 55 games and counting.
Mike Smith had a solid game Saturday night against the San Jose Sharks. Smith recorded a shut out on a whopping 42 shots on net. He is getting hot and hopefully it will end Monday night against the Predators. Here is how the Nashville Predators will beat Mike Smith.

Low Blocker Side: The Predators need to shoot low blocker side to score on Smith. Especially blocker side under the arm.
Holes Along the Post: You will be able to find a few holes along the post when Smith has post knee up. He is weak in that area, so watch for Nashville to shoot as soon as he goes post knee up.
Frustrate Him: This isn't a skilled way to beat him, but rather a mental way to beat him. The goalie position is mostly mental, in case you didn't know. When Mike Smith is scored on, he slams his stick. When he does, the Preds have him.
Watch in this video above, he is about to swing his stick at the post at 0:03.
Here is Mike Smith's stats of 2011-2012:
| | | | | | | |
| --- | --- | --- | --- | --- | --- | --- |
| Name | W | L | OT | SO | SV % | GAA |
| Mike Smith | 30 | 17 | 7 | 5 | .927 | 2.28 |

Here is Mike Smith's career stats vs Nashville:
| | | | | | | |
| --- | --- | --- | --- | --- | --- | --- |
| Name | W | L | OT | SO | SV % | GAA |
| Mike Smith | 3 | 2 | 0 | 1 | .903 | 2.47 |

—————————————–
32 year old, Jason LaBarbera, should be sitting on the bench for Monday night's game and be next to the home crowd. LaBarbera has played ten games against the Nashville Predators, but it wouldn't make a lot of sense to start him in a huge game. He has started in all three meetings this season, so you never know. Now if he was to start, or play, Tuesday night, here is how the Predators will beat him Monday.

Traffic In Front: A good number of the goals scored on LaBarbera is a player either screening him or deflecting the puck. Nashville needs to put numbers in the slot.
Move Left to Right: The Predators need to be able to make him move from left to right. It is one of his weaknesses.

Here is Jason LaBarbera's 2011-2012 stats:
| | | | | | | |
| --- | --- | --- | --- | --- | --- | --- |
| Name | W | L | OT | SO | SV % | GAA |
| Jason LaBarbera | 3 | 8 | 3 | 0 | .915 | 2.45 |
Here is Jason LaBarbera's career stats vs Nashville:
| | | | | | | |
| --- | --- | --- | --- | --- | --- | --- |
| Name | W | L | OT | SO | SV % | GAA |
| Jason LaBarbera | 5 | 4 | 0 | 1 | .906 | 2.77 |