Welcome to the seventh edition of 'How to Beat the Goalie' on Fang Faction. The Nashville Predators play the San Jose Sharks Thursday night at "The Shark Tank" in San Jose. This will be the second time I will be covering the Sharks in 'How to Beat the Goalie' this season. The goalie for the San Jose Sharks are Antti Niemi and Thomas Greiss. They will both be looked at with in-depth stats and video.
Edition 7: San Jose Sharks, Antti Niemi and Thomas Greiss
The San Jose Sharks are in need of a win Thursday night. Currently (as I am writing this), they are in 8th place. Only because the Sharks have played one less game than 9th place Calgary Flames. Antti Niemi has been the "go-to guy" all season for San Jose, so I expect he will get the start Thursday against Nashville.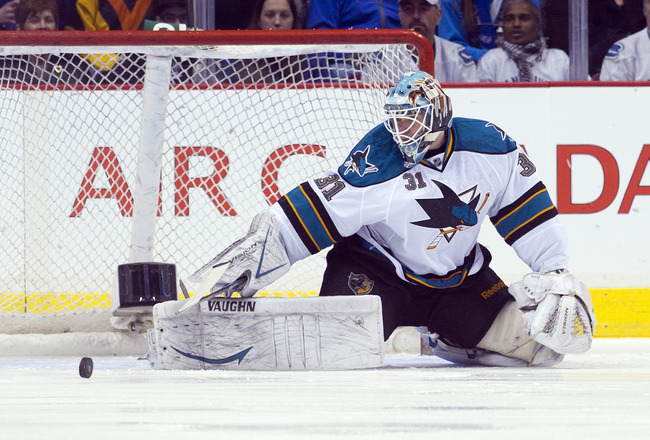 As I said earlier, the projected starting goalie for Thursday night's game against the Nashville Predators is Antti Niemi. The Sharks have leaned on him all season, but he hasn't played too well this season. Niemi actually has more losses (counting OT) than he has wins. Most of the losses haven't been his fault because the Sharks are just plain "soft" this season. Anyways, here is how the Predators will be the Finnish Niemi.
I am actually not going to change much of anything from the last time I analyzed Antti Niemi.

Traffic In Front: The Nashville Predators need to have someone in front of the net at all times because Niemi is a rebound machine.
Blocker Side: For the snipers like, Martin Erat, Sergei Kostitsyn, and Andrei Kostitsyn, they are going to try to go high blocker side. It will be a sure goal if they make him move from left to right, then shoot hich blocker side. The Flames did their homework.
Here are Antti Niemi's stats for the 2011-12 season:
| | | | | | | |
| --- | --- | --- | --- | --- | --- | --- |
| Name | W | L | OT | SO | SV % | GAA |
| Antti Niemi | 26 | 18 | 9 | 5 | .913 | 2.44 |
Here is Antti Niemi's career stats vs Nashville:
| | | | | | | |
| --- | --- | --- | --- | --- | --- | --- |
| Name | W | L | OT | SO | SV % | GAA |
| Antti Niemi | 4 | 3 | 1 | 0 | .899 | 2.71 |
———————————————————–
Thomas Greiss is going to sit once another night, it seems like. The last time Thomas Greiss played was February 26 in Minnesota. Greiss allowed the Wild to score four goals. Greiss has only played in 15 games this season.
The last time the Sharks and Predators met, February 25, Greiss played 44 minutes. He allowed two goals on 13 shots. Greiss has to take advantage of his opportunities when they become available, but unfortunately, he hasn't. So on that note, here is how the Predators will beat him, if he plays.

Shoot Always: To beat Thomas Greiss, all a player needs to do is throw things on net. Because he is rusty of sitting on the bench a lot, he is vulnerable.
Deflections: Park a player in front and deflect the puck. The Minnesota Wild were experts at it.
Here are Thomas Greiss' stats for the 2011-2012 season:
| | | | | | | |
| --- | --- | --- | --- | --- | --- | --- |
| Name | W | L | OT | SO | SV % | GAA |
| Thomas Greiss | 8 | 7 | 1 | 0 | .914 | 2.36 |
Here are Thomas Greiss' career stats vs Nashville:
| | | | | | | |
| --- | --- | --- | --- | --- | --- | --- |
| Name | W | L | OT | SO | SV % | GAA |
| Thomas Greiss | 1 | 1 | 0 | 0 | .871 | 3.32 |